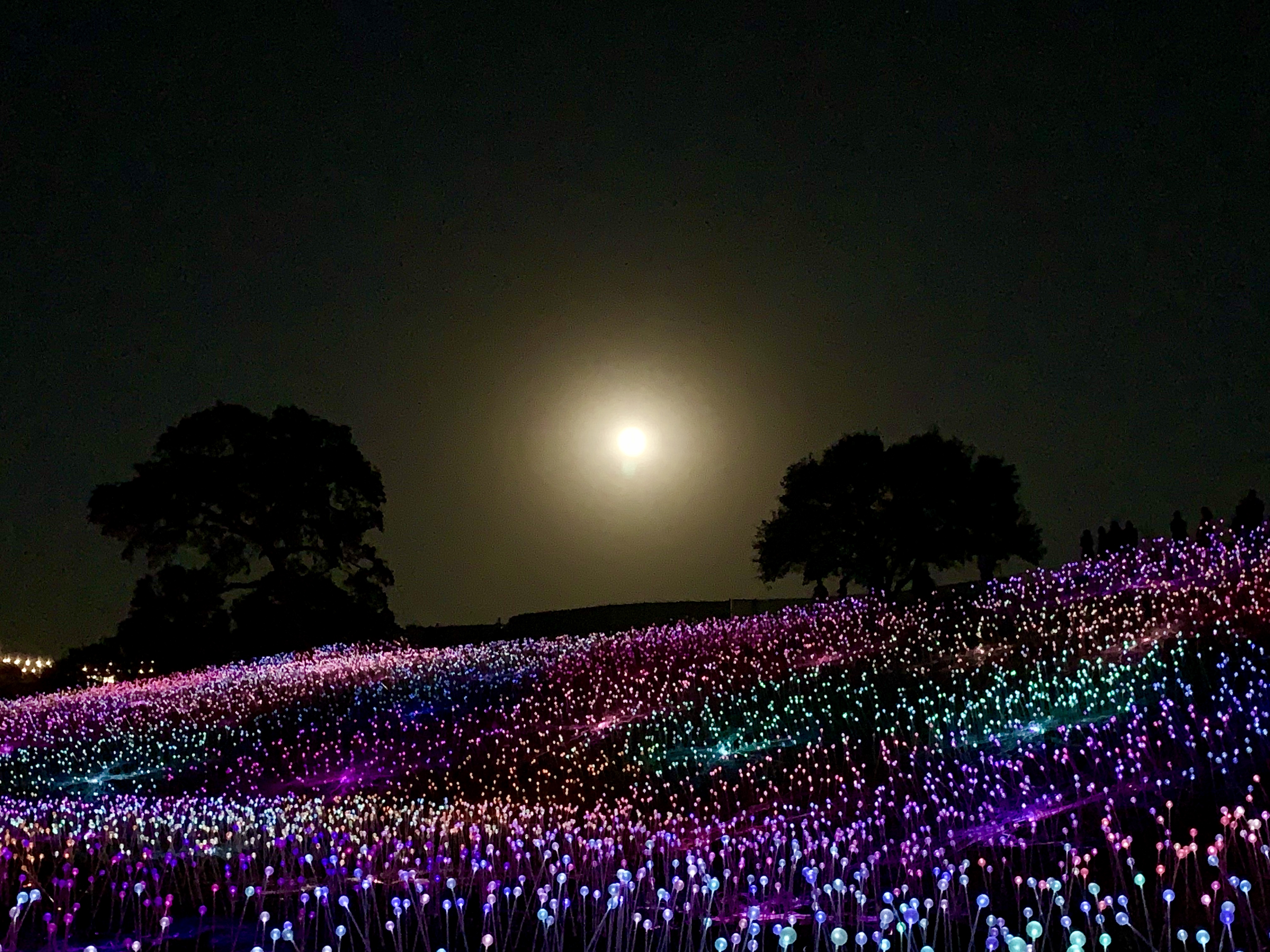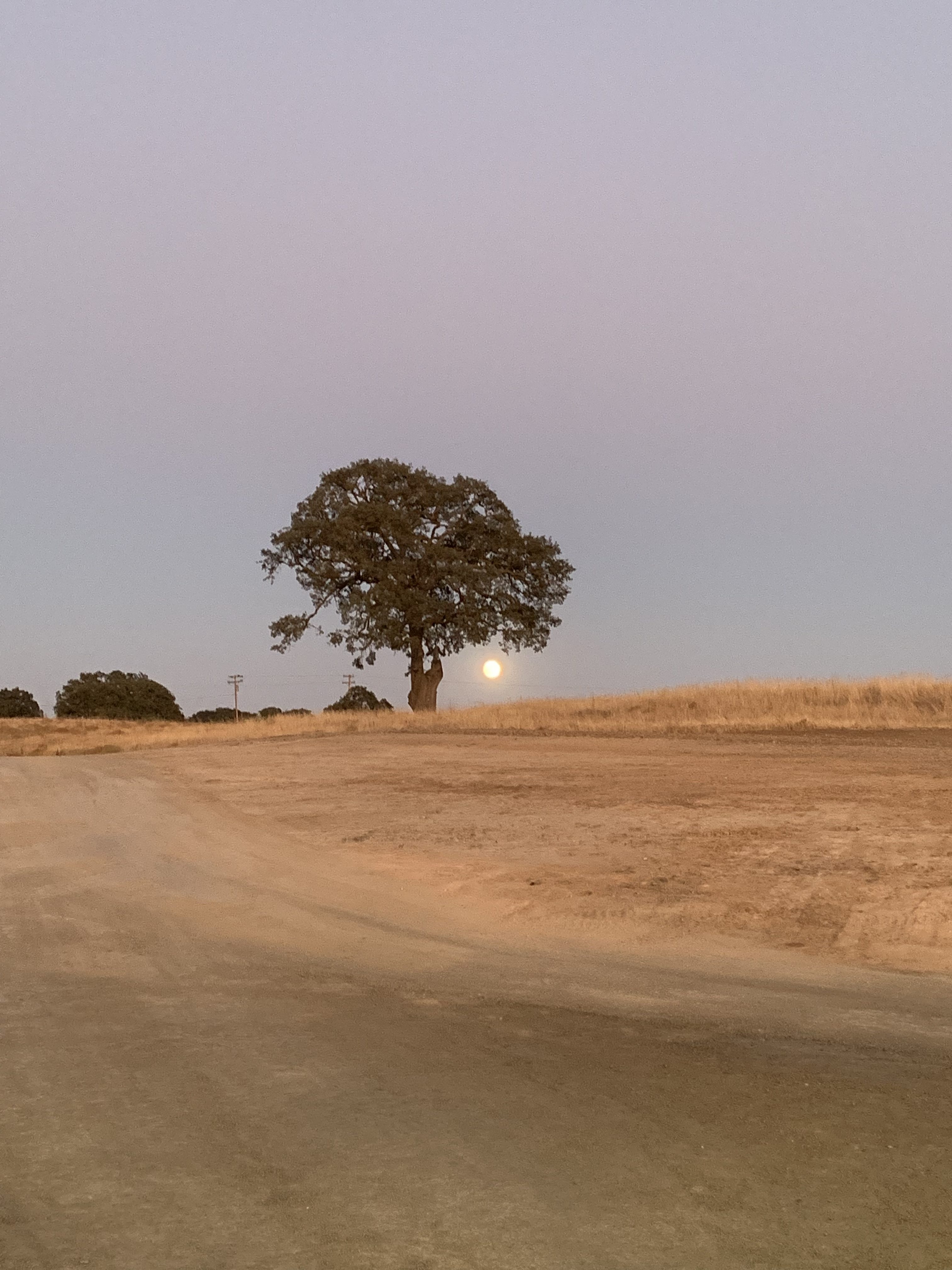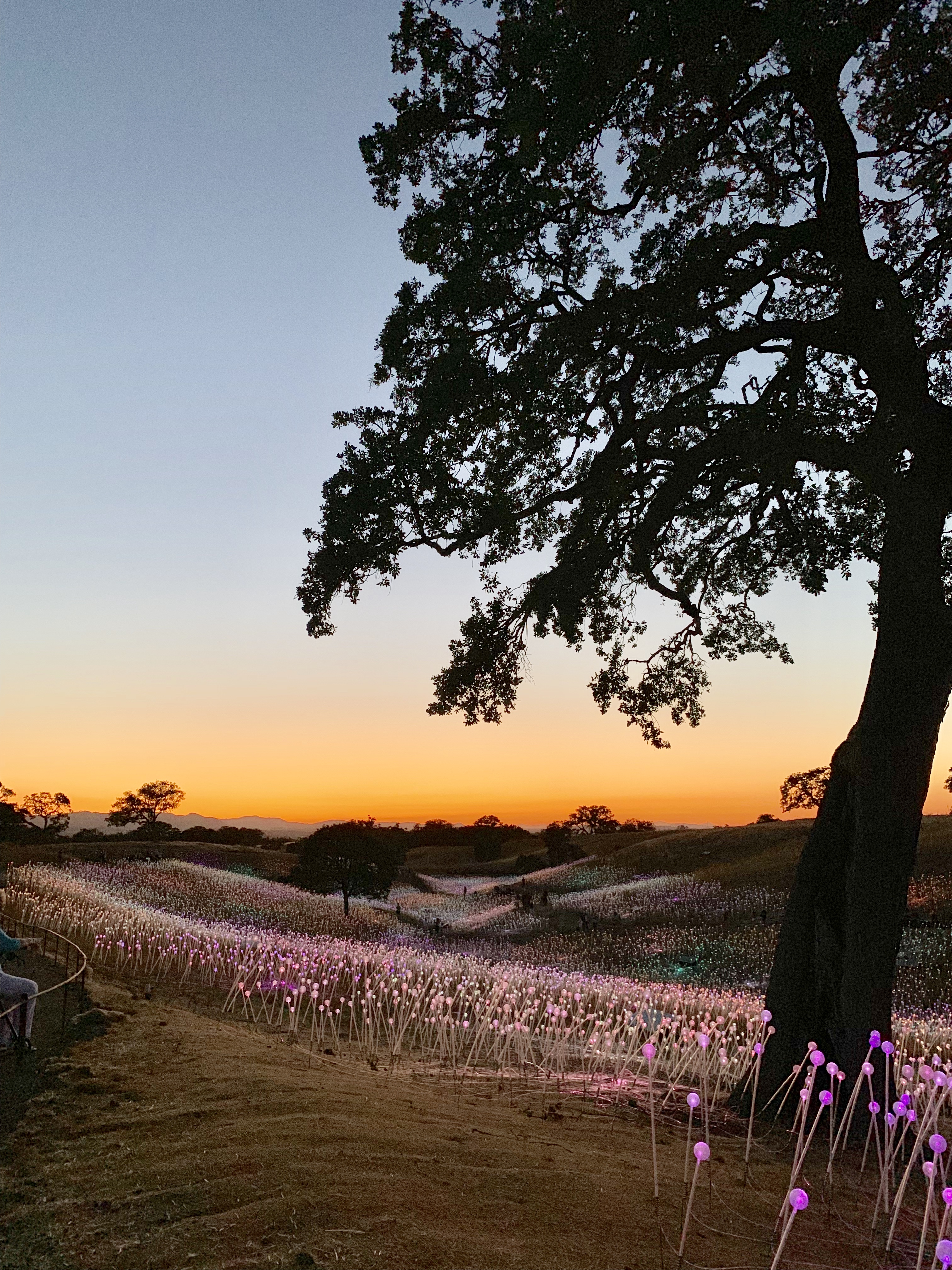 the get down
---
If there is something every Angeleo should put on their bucket list before Jan 2020, it is Sensorio: Field of Light. Sensorio is a multi-acre, illuminated art installation created by acclaimed artist Bruce Munro. This art installation is not one just for the eyes to view, but also for the heart to feel.
An experience of Sensorio almost feels like a dream. A whiff of euphoria if you will. I mean, you ARE standing in the middle of what once were vast fields… AND RUNNING freely toward the light.
As you enter, you can only see the reddish orange sunset in the backdrop, until you come up to the pond in the middle of this field. THIS is Sensorio. The vibe remains so serene; both calming and soothing. At some point you'll realize you are surrounded by hundreds of people.
Sensorio is created using 58,000 lights. These lights are not at all ordinary. The tops of each light is shaped like a sphere, and bottoms like stems. When seen all bunched together after being planted in the around, these spheres and stems together may even appear like jellyfish, slowly moving and taking its own shape as you change perspective.
Each light in the Sensorio installation was created using fiber optics and is illuminated with color. These illuminated lights will immediately take you to a place of calm. You may even forget you came with the kids.
So what if a road trip to Pasa Robles is in order for this one. All the singalongs in the car with your screaming tot will be worth it once you arrive. The ride back home might even be pure zen.
Helpful Tips: A paved path was created all around Sensorio so you can easily bring a stroller. No outside food is allowed, not even water bottles so leave then in the car or you will have to leave it at security. Food and drink stands are all around as well. There is an area with live music and space for the tots to run around and have a bite before or after entering the exhibit.
---
DETAILS
---
(First timer? Scroll down to check out the rating system below.)
GO FOR

An immersive art experience that will give you all the feels.

SOCIAL SCENE

Domestic Imports, Homies, Well-Cultured, Multicultural

TODDLER RATING

Easily Forgiven
The Spotted Cloth
Rating System:
It's our goal to make exploring LA either with the kids or with grown ups as easy as possible. Click through the tabs above to check out our rating system.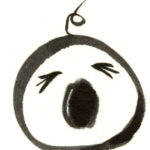 For those with little
runners & screamers:
Easily forgiven:
Here, you can forget the fact that it's your rambunctious child that's screaming and STILL enjoy most of your meal.
Not promoted, but you should take the chance:
If your toddler is at the stage when an iPad or some other colorful distraction can be used for an un-interrupted 20 minutes, then go for it.
Uh-uh, NO WAY, don't even think about it!:
I don't care how cute your toddler is. Pop your head in… turn around… walk away. PERIOD.
No contained area:
A place you cannot leave your toddler alone, not even for a second.
Enclosed, but space is tight:
If YOU can't fit between the tables then you know you couldn't catch your toddler if they tried – this isn't Norm's.
WHAT'S CLOSE
---
Click through the map below to find delicious places to eat and fun places to play nearby. (It's completely clickable – go nuts!)
SHARE YOUR THOUGHTS
---
Drop us a line to start the conversation.
HOLLER AT US
---
Summary
The Spotted Cloth
Review Date
Establishment
Rating